Vision
To emerge as a center of excellence in Mechanical Engineering for producing innovative and creative mechanical engineers to meet the ever changing industrial and societal needs.
Mission
To impart thorough knowledge in fundamental subjects of Mechanical Engineering with problem solving skills so as to meet the expectations of the industry and other stake holders.
To establish in dustryinstitute interaction and provide glimpses of technological challenges.
To provide excellent training for employment and higher educational opportunities with state of art technology & modeling tools.
To nurture professional ethics, communication and human values among the students for a holistic development.
West Godavari Institute of science and engineering has started Mechanical Engineering Department with UG Program BTech in year 2009, with the initial intake of 60.
The Department of Mechanical Engineering from the day of its inception, has been taking long strides in the field of science and Engineering. One of the oldest and active Departments anticipated the rapid developments in technology and software and provided the most sophisticated laboratory facilities & excellent infrastructure. The Department has well qualified dedicated enthusiastic teaching & technical staff.
It is a discipline that finds wide scope in emerging areas like CAD, CAM, CIM, Robotics, Mechatronics and Renewable Energy etc. The Department is provided with state-of-the-art laboratories and workshops. The students of our Department have good communication and Inter personal skills.The department has very good infrastructure facilities, well ventilated classrooms, laboratories and advanced and licensed software facilities. Some of the laboratories are kept open beyond college hours to facilitate more time in experiential learning and student project works. Utilizing these facilities students regularly participate in professional body activities like ASME-HPVC and SAE Baja and win prizes. Students are encouraged to improve their innovative skills. As a result, some of the students' projects were converted into products.
Semester 1

Semester 2

Chemistry

Modern Biology

Electrical Sciences

Introduction to Computing

Mathematics - I

Mathematics - II

Physics - I

Engineering Mechanics

Chemistry Laboratory

Physics - II

Workshop /Physics Laboratory

Computing Laboratory

Engineering Drawing

Basic Electronics Laboratory

Physical Training - I

Physics Laboratory/Workshop

[NCC/NSO/NSS]

Physical Training - II

[NCC/NSO/NSS]

Semester 3

Semester 4

Mathematics-III

Fluid Mechanics - I

Thermodynamics

Manufacturing Technology - I

Solid Mechanics - I

Solid Mechanics - II

Engineering Materials

Kinematics of Machinery

HSS Elective - I

HSS Elective  - II

Machine Drawing

Workshop  - II

Physical Training - III

Mechanical Lab - I

NCC/NSO/NSS

Physical Training - IV

NCC/NSO/NSS

Semester 5

Semester 6

Fluid Mechanics - II

Applied Thermodynamics - I

Manufacturing Technology - II

Machine Design

Dynamics of Machinery

Mechanical Measurements

Design of Machine Elements

Heat and Mass Transfer

Electrical Machines

Control Systems

HSS Elective - III

Mechanical Lab - III

Mechanical Lab -  II

Semester 7

Semester 8

Summer Training (PP/NP)

Industrial Engineering and Operation Research

Applied Thermodynamics - II

Dept Elective -  III

Dept Elective - I

Dept Elective - IV

Dept Elective - II

HSS Elective - IV

Open Elective - I

Project- II

Mr.K.MURALIDHAR working as associate professor and HOD in WISE engineering college since 2021.He obtained his M.Tech in TOOL DESIGN from Osmania University-Hyderabad and B.Tech from GIET-Rajamahendravaram, in mechanical Engineering. He has more than 10 years of teaching experience.
At Wise College, we are committed to providing our students with the highest quality education and resources to help them reach their full potential in the field of engineering.
We believe that a college education should be both empowering and rewarding, and with the right tools and guidance, our students can make the most of their time here.

Engineering Mechanics, Electrical and Electronics Engineering, Mechanics of Solids, Thermodybnamics, Fluid Mechanics and Hydraulics Machinery, Thermal Engineering­I, Thermal Engineering­II, Kinematics of Machinery, Dynamics of Machinery, Design of Machine of Members I, Design of Machine Members­II, Heat Transfer,Metallurgy & Materials Science.
Engineering Physics, Engineering Chemistry, Maths­I, Maths­II, Probability &Statistics, Operations Research.
Environmental Science, Engineering Drawing, Machine Drawing, Production Drawing Practice, Production Technology, Engineering Metrology, Machine Tools, Automobile Engineering, Refrigeration and Air conditioning, Power Plant Engineering, Instrumentation & Control Systems, Unconventional Machine Processes, Plant Layout and Material Handling, Renewable Energy Sources.
Computer Programming.
Finite Element Method, CAD/CAM, ROBOTICS.
English.
Environmentaal Studies.
Human Values and Professional Ethics.
Project Work, labwork.
English.
Managerial Economics and Financial Analysis, Production Planning and Control
Project work.
PEO1 – To impart knowledge of mathematics and physical sciences and fundamentals as well as advances in Mechanical Engineering and interdisciplinary subjects to solve engineering problems.
PEO2 – To train on appropriate tools for modeling, simulation, analysis and design of Mechanical Engineering systems.
PEO3 – To organize industrial visits, workshops and guest lectures by experts and industry personnel, and to ensure close interaction with industry.
PEO4 – To train for good communication skills and knowledge on social ethics and management principles to function effectively in diverse multidisciplinary environments.
PEO5 – To engage in independent and life­long learning process to cope with the needs of technological changes.
PSO1:The Graduate will be equipped with the knowledge in the areas of Design and Development of equipment using software tools such as Auto CAD, Pro­E, and ANSYS.
PSO2:The Graduate will be equipped with the knowledge of Design and Development of Power Plants, Refrigeration and air conditioning, and other thermal engineering equipment conservation of energy and explore alternate sources and methods of power generation.
PSO3:

 The Graduate will be able to apply Engineering knowledge related to advanced materials and their applications Develop advanced metallic polymer composite materials and apply new methods of manufacturing to meet changing technology.


ROLL OF HONOUR-MECHANICAL
| | | | |
| --- | --- | --- | --- |
| YEAR | REG.NO | NAME OF THE STUDENT | PERCENTAGE |
| 2009-13 | 09PD1A0330 | K.PHANI TEJA | 79% |
| 2010-14 | 10PD1A0330 | N.KONDAYYA | 75.86% |
| 2011-15 | 12PD5A0314 | T.SRIKANTH | 78.28% |
| 2012-16 | 13PD5A0302 | G.SRINU BABU | 77.28% |
| 2013-17 | 13PD1A0304 | A.H.S.SAI KIRAN | 81.37% |
| 2014-18 | 15PD5A0308 | K.V.V.D.PRASAD | 76% |
| 2015-19 | 15PD1A0310 | B.GOVINDA RAO | 74.40% |
| 2016-20 | 16PD1A0327 | M.B.SAI KIRAN | 8.12(CGPA) |
| 2017-21 | 17PD1A0308 | D.T.D.S.CHANDRA RAO | 7.37(CGPA) |
| 2018-22 | 18PD1A0301 | D.BHARGAV SAI RAM | 7.77(CGPA) |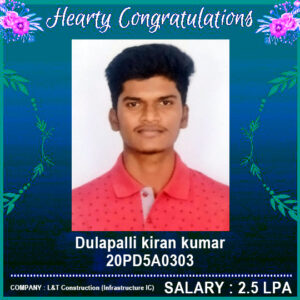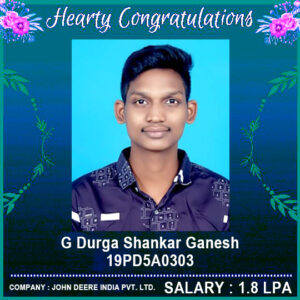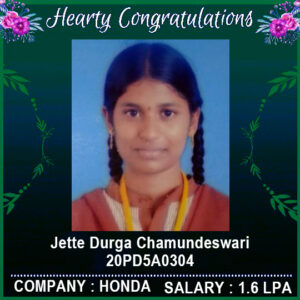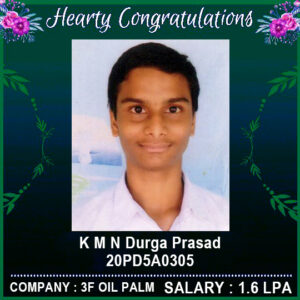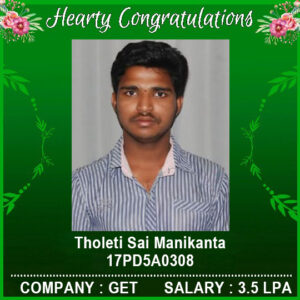 Fluid Mechanics & Hydraulic Machines Lab
In this lab, students will get the idea on how to develop power from water avialable at high heads and low heads. This lab is to give perfect idea about hydraulic losses and it is used to find discharge in open channels and closed channels.
Major Equipment: 1. Venturimeter, 2. Orificemeter,
Centrifugal Pump, 4. Reciprocating Pump,
pipe friction, 6. Pelton Wheel,
Kaplan Turbine, 8. Francis Turbine.
Heat Transfer Lab
Heat Transfer Lab: Heat Transfer laboratory provides the practical exposure to the students with regard to the determination of amount of heat exchange in various modes of heat transfer including condensation & boiling for several geometries. In this lab, student will be able to evaluate the amount of heat exchange for plane, cylindrical & spherical geometries and also compare the performance of extended surfaces and heat exchangers.
Metallurgy Lab
In this lab, students will get the idea on different metal structures for different materials, Heat treatment processes, etc., and they will be trained on microscopes.
Major Equipment: 1. Metallurgical Microscopes, 2.Jominy Quench Test Instrument, 3.Single disc polisher, etc.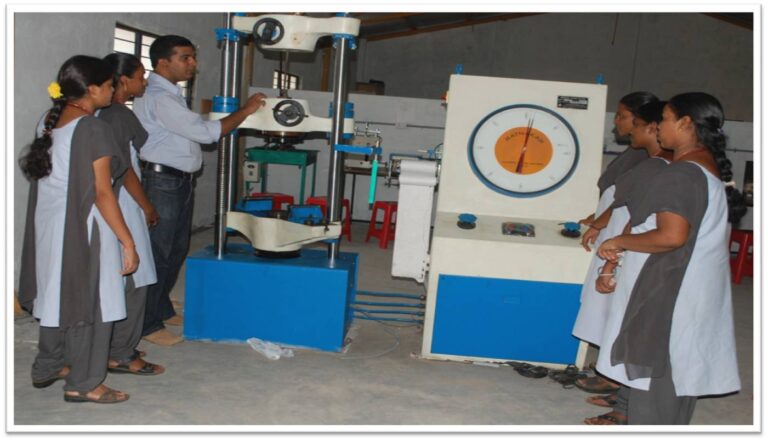 MECHANICS OF SOLIDS LAB
This lab gives the clear idea to know about the material strength, toughness, stiffness, of Compression and Tension for various materials, Shear Strength, Hardness of Mild Steel, Copper, Impact strength, which is used to draw the stress stain diagram for different materials etc.
Major Equipment:
1. Electronic universal testing machine 100 ton, 2. Impact testing machine,3.Torsion testing machine, 4. Spring testing machine,5.Hardness Testing Machine, etc.
Thermal Engineering lab
The objective of this lab is to provide hands-on experience in operating various types of internal combustion engines, boilers and understand their functioning and evaluating their performance. In this lab, the experiments are performed to measure performance parameters of the systems such as Brake power, Efficiency, Torque, Fuel Consumption, etc.Thermal Engineering laboratory is equipped with test facilities for doing research work within internal combustion engines.