Vision
Provide quality technical education with innovation and importance to R&D,thereby fulfilling the needs of the society and to achieve Academic excellence in Electronics and Communication Engineering for Global Competent Engineers.
Mission
M1: To adopt innovation student –centric learning methods
M2: To develop an orientation towards futuristic view by research
M3: To enable them to compete in national and international levels.
M4: Strengthen core competencies among the learners through an exceptional curriculum
The department of Electronics and Communication Engineering was inaugurated in the year 2008,with in-take of 60 seats and in the year 2009 the no of seats extended to 120. The Electronics and communication engineering program is recognized by All India Council for Technical Education (AICTE)-New Delhi, a statutory body of Government of India and approved by Jawaharlal Nehru Technical University, Kakinada. The Department is known for its esteemed faculty members who are renowned for their path- breaking contributions in the field of electronics and communications. Ambitious is probably an understatement when it comes to defining our department – we don't believe in stopping short of pure excellence. When it comes to proving their mettle, our students let their practical knowledge and theoretical soundness do the talking
II YEAR - I SEMESTER
1. Electronic Devices and Circuits
2. Switching Theory and Logic Design
3. Signals and Systems
4. Mathematics-III (Transforms and Vector Calculus)
5. Random Variables and Stochastic Processes
6. OOPS through Java Lab
7. Electronic Devices and Circuits –Lab
8. Switching Theory and Logic Design–Lab
9. Python Programming
II YEAR - II SEMESTER
1. Electronic Circuit Analysis
2. Digital IC Design
3. Analog Communications
4. Linear control Systems
5. Management and Organizational Behavior
6. Electronic Circuit Analysis Lab
7. Analog Communications Lab
8. Digital IC Design Lab
9. Soft Skills
10. Constitution of India
III YEAR - I SEMESTER
1. Analog ICs and Applications
2. Electromagnetic Waves and Transmission Lines
3. Digital Communications
4. Electronic Measurements and Instrumentation
5. Analog ICs and Applications LAB
6. Digital Communications Lab
7. Data Structures using Java Lab
8. Indian Traditional Knowledge
III YEAR - II SEMESTER
1. Microprocessor and Microcontrollers
2. VLSI Design
3. Digital Signal Processing
4. Mobile & Cellular Communication
5. Microprocessor and Microcontrollers – Lab
6. VLSI Design Lab
7. Digital Signal Processing Lab
8. ARM based/ Aurdino based Programming
IV YEAR - I SEMESTER
1. Optical Communication
2. Internet of Things
3. Satellite Communications
IV YEAR - II SEMESTER
PROJECT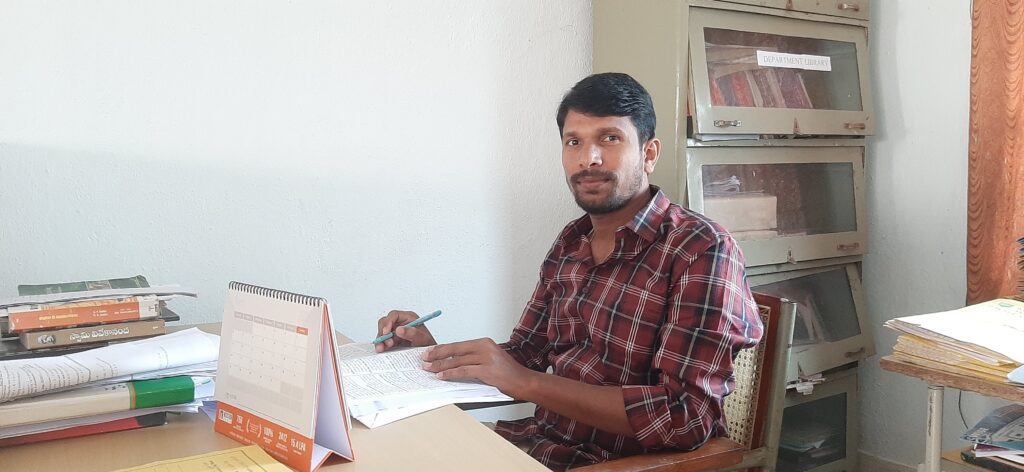 Mr. L Sankar, M. Tech.,(Head of the Department).The department, headed by Mr.L Sankar, having 10 years of experience in engraving students career and who is expert in his own disciplines, aims at educating and training students with sound knowledge and awareness in the latest trends. He has a vast teaching experience in serving various Institutions under JNTUK and has been a part of the WISE Engineering College since 2015 where he has been the HOD for the last 5 years. He has obtained his B.Tech under JNTUK in ECE, M.Tech in Electronics and Communication Engineering (ECE) under JNTUK. He has published 9 research papers in various International Journals and Conferences. He has organized many hands-on workshops for the benefit of the students and organized many industrial visits to the students.
The department strives to train and empower our students who will make the world a better place by making use of engineering principles, techniques and systems. To that end , considerable initiatives have been taken to establish good laboratories in the areas of Electronics, Communication, Microwave, Digital Signal Processing, Microcomputer, Embedded and VLSI design with required hardware and simulation software's. Here, the students are provided with greater exposure in the core areas of Electronics & Communication Engineering as compared to the students admitted in a similar program at other institutes of the state. The students are also encouraged to participate in the technical activities apart from the regular curriculum.

PROGRAM OUTCOMES:
PO 1: Engineering Knowledge: Apply the knowledge of mathematics,science,engineering fundamentals and an engineering specialization to the solution of complex engineering problems
PO 2: Problem Analysis: Identify,Formulate,review research literature and analyze complex engineering problems reaching substitutional conclusions using first principles of mathematics,natural sciences, and engineering sciences
PO 3: Design/development of solutions: Design solutions for complex engineering problems and design system components or processes that meet the specific needs with appropriate consideration for the public health and safety,and the cultural,social and environmental considerations.
PO 4: Conduct Investigations of complex problems: Use research-based knowledge and research methods including design ofexperiments,analysis and interpretation of data and synthesis of the information to provide valid conclusions
PO 5: Modern tool usage: Create,select and apply appropriate techniques,resources and modern engineering and IT tools including prediction and modeling to complex engineering activities with an understanding of the limitations
PO 6: The engineer and society: Apply reasoning informed by the contextual knowledge to access societal,health,safety,legal and cultural issues and the consequent responsibilities relavant to the professional engineering practice.
PROGRAM SPECIFIC OUTCOMES(PSO):
PSO 1: Proficiency in Specalized software tools and computer programming useful for the analysis/design of Embedded systems and VLSI
PSO 2: Capability to comprehend the Technological Advancements in Radio frequency(RF), Communication and Digital Signal Processing.
PROGRAM EDUCATIONAL OBJECTIVES(PEOS):
PEO 1: Graduates will excel in the field of core engineering along with the supporting knowledge in mathematics,science and engineering fundamentals.
PEO 2: Graduates have solid foundations in fundamentals is required to solve engineering problems.This serves them lifelong their professional domain as well as higher education.
PEO 3: Graduates will exhibit the effective skills in core design sectors,management and leadership qualities at the national level an in multinational organization.
PSO 1)Students will have the ability to identify, formulate and solve complex engineering problems using various techniques & tools to promote the welfare of the society.
PSO 2) Design and develop software in the area of relevance under realistic constraints and communicate effectively with different stake holders and demonstrate leadership skills.


| | | | | |
| --- | --- | --- | --- | --- |
| S.NO | NAME OF THE FACULTY | DESIGNATION | QUALIFICATION | PROFILE |
| 1 | Mr.L.Sankar | Associate professor | M. Tech |    VIEW |
| 2. | Ms.B.Anusha | Assistant professor | M. Tech |    VIEW |
| 3 | Mrs.SK.M.U.Begum | Assistant professor | M. Tech |    VIEW |
| 4 | Ms.K.Lalitha | Assistant professor | M. Tech |    VIEW |
| 5 | Ms.T.Hima Bindu | Assistant professor | M. Tech |    VIEW |
| 6 | Ms.K.Sudha Rani | Assistant professor | M. Tech |    VIEW |
| 7 | Mr.M.Rajesh | Assistant professor | M. Tech |    VIEW |
 

Book Publications

S. NO

NAME OF THE FACULTY

NAME OF THE BOOK PUBLISHED

 

 

 

 

 

 

 

 

 

1

 

 

 

 

 

 

 

 

 

Dr. M. ARAVIND KUMAR

IOT in medical

Facial Emotions Recognition using Convolution Neural

Network

Fire Fighting and Agriculture e seed Spreading Drone

Smart Control of Traffic Light using Deep Learning

Deep Learning and Image Processing Based Currency Detection

Machine Learning Based Power Utilization Prediction

An Acoustic Channel Model  for Direct and Multipath Models in Deep Water

A data Analytics Approach to Cybercrime Underground

Economy

IOT Based Anesthesia Injector through Robot

Identification of Blind Digital Modulation in Multiple-Antenna System

Performance Analysis of MIMO-OFDM System with Relaying Techniques

Design High Speed and High Accuracy Novel Multiplier

Soil Analysis and Crop Recommendation using Machine Learning

 

2

 

L. SANKAR

IOT Based Gas Leakage Detection and Evacuation System

Fake Currency Detection

 

 

3

 

 

 

B.ANUSHA

A Theory on Hand Gesture Recognition For Vocal Impaired Community

Design and Implementation of 4-Bit Shift Register Using 2 PASCL Logic

 

        4

 

SK.M.UNNISHA BEGUM

IOT Based  Anesthesia injector  through robot

Face Recognition Using Raspberry Pi

Density Based Traffic Controlling System for Emergency

Vehicles

5

K.LALITHA

Fractal Segmented Lotus shape planer monopole Antenna

6

K.SUDHA RANI

Design & Implementation of Barrel Shifter Based Approximate Multiplie

ROLL OF HONOUR-ECE
| | | | |
| --- | --- | --- | --- |
| YEAR | REG.NO | NAME OF THE STUDENT | PERCENTAGE |
| 2008-12 | 08PD1A0403 | L.TEJA SAI | 84% |
| 2009-13 | 09PD1A0428 | G.SATYA SHAMILI | 82% |
| 2010-14 | 10PD1A0428 | K.SIVA DURGA | 84% |
| 2011-15 | 11PD1A0440 | U.SUKANYA | 81.86% |
| 2012-16 | 12PD1A0477 | U.SUBBALAKSHMI | 78.92% |
| 2013-17 | 13PD1A0432 | T.SAMBHAVI DEVI | 78.92% |
| 2014-18 | 14PD1A0407 | CH.TRILOCHANA DEVI | 78.41% |
| 2015-19 | 15PD1A0433 | P.RAJU | 72% |
| 2016-20 | 16PD1A0431 | K.NAGAMANI | 8.46(CGPA) |
| 2017-21 | 17PD1A0431 | M.CHANDANA | 8.59(CGPA) |
| 2018-22 | 18PD1A0419 | Y.JAI GANGA BHAVANI | 8.15(CGPA) |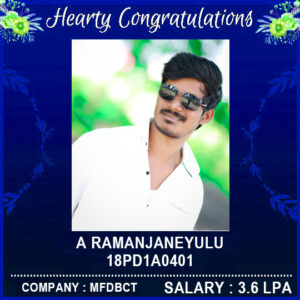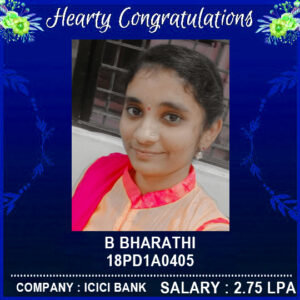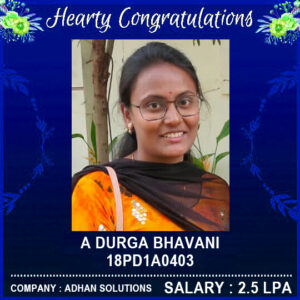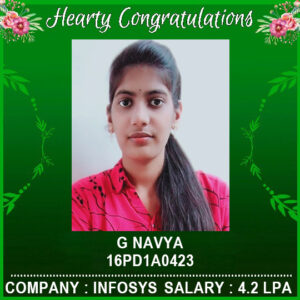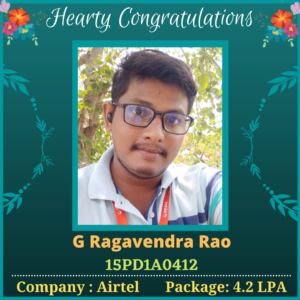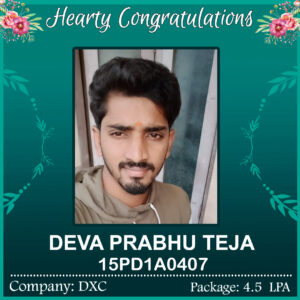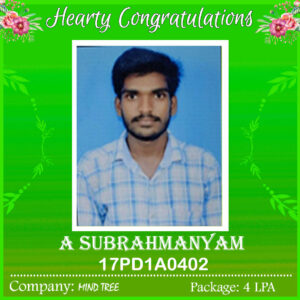 MICROWAVE & OPTICAL COMMUNICATION LAB